Hola! Since I haven't had any internet connection at home. You'll get the last two weeks as one. I know you wanted every week update, but I haven't been able to do so.

So, this is the base layout we have for our map. This is all chunks of rocks to have the basic layout

A terrain is of course needed, so I added terrain around all the rocks, so I could mesh together terrain and rocks
New skybox with more mystic athmosphere added, and I added more rocks and more mountains around it.
The first idea was to have a large ocean, which would melt together with the skybox in the horizon.

It didn't feel right with a vast ocean, I instead wanted to give the feeling that the player is surrounded by large mountains, and that the lake were in a vally.
Skybox had to be changed to get the correct atmosphere again. The night sky were to dark, and the whole map got to "sad". Instead I added a dusk skybox.
Finally, some props is getting added. Trees and textures is worked on properly all over the map.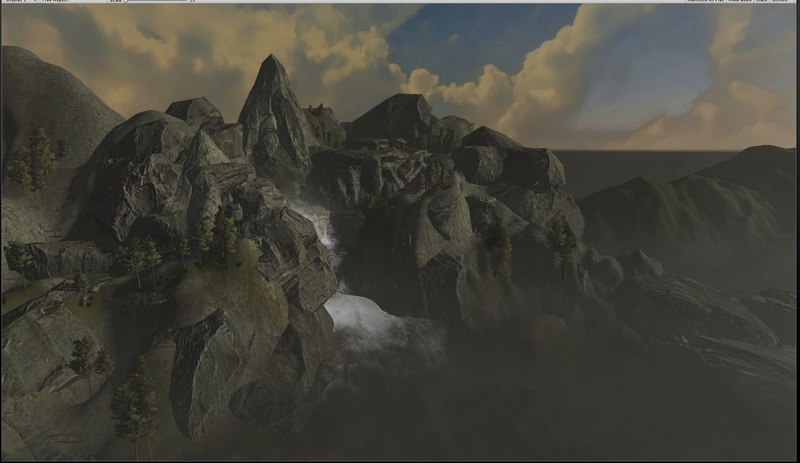 The first preview with camera effects and fog. A global fog effect added closest to the lake to give the map a bit more of mystic.
Here, with one more directional light and no fog effect. More rocks where added to the left side in the picture, to give it a bit more of "real" feeling, in game.

The top of the mountain, altar ruins and the massive statues. Wanted to give the feeling of that it once was something "religious"

And the bridge added, the bridge which Victor coded himself, so you could apply it between which ever point you want and extend and increase it. And it builds buy it self when you hit play.

Then to this boring part, blocking. Everything blocked out with regular cubes, which i then removed the mesh renderer from.
Starting point of the map is being built, some ruins of an old road leading up to the temple entrance.

Print Screen of the final product! Mystic sunrise over this mountain side.
That's all from me!  

Alex